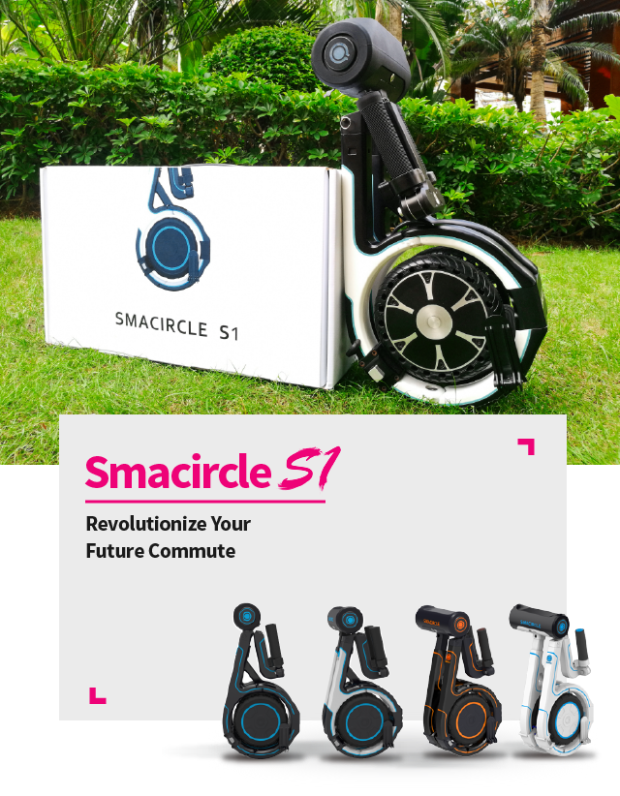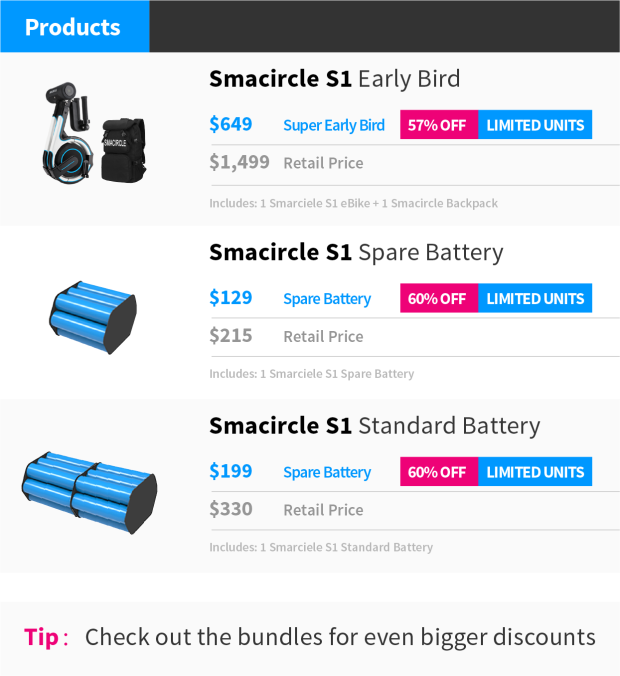 Meet the Smacircle S1 the smallest and most lightweight ebike in the world
Experience a commute you can actually enjoy with the Smacircle S1 ebike. Avoid crowded public transport, parking costs and glide past traffic with high speeds of 12.4mph. Fold up in five simple steps and carry in your backpack.
At only 15.4lbs (7kg) and easily folded up in five simple steps, it is perfect for those city commutes too far to walk, but too close to drive. Built with high quality materials the S1 boasts a strong and stylish carbon fiber frame and powerful Samsung battery.
iOS and Android apps allow you to lock and unlock the S1, monitor battery usage, adjust the speed and change preferences. An integrated USB charger means your devices never run out of battery.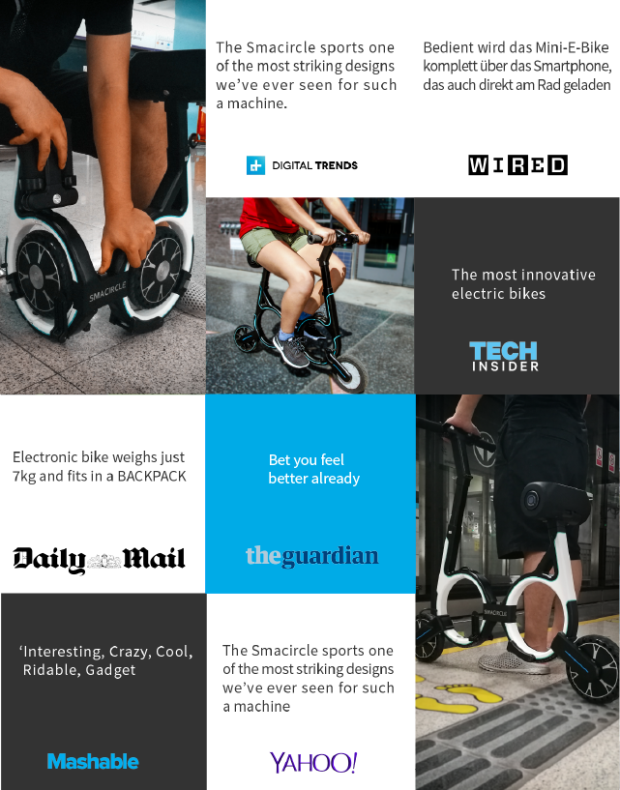 S1 Mashable Live Stream
Testing the Smacircle S1 on the public!

What People Say About Smacircle S1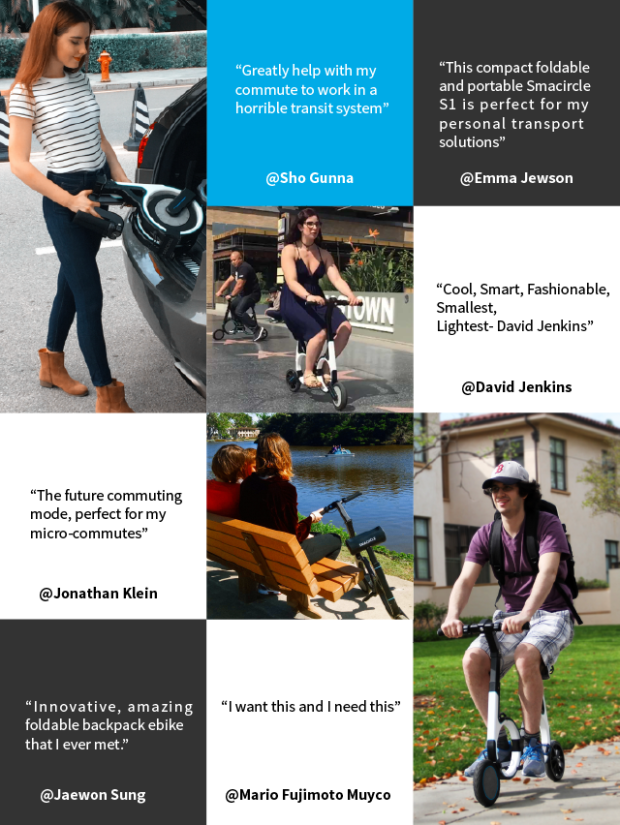 Overview of Smacircle S1 Features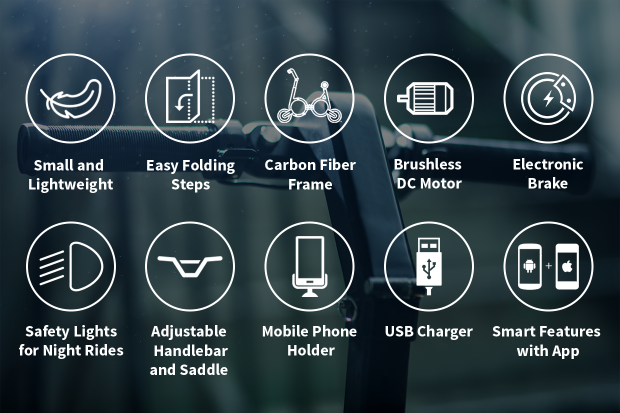 Neat Compact Design
Unlike many other fold-up commuter bikes Smacircle's unique, modern design is neat and compact. It takes up minimal space and its unisex design means it suits everyone.
Carbon Fiber Frame
Constructed with premium carbon fibre the frame is lightweight, yet strong enough to carry a weight of up to 220lbs/ 100kg.
Its strength and light weight make it ideal for taking on public transport. Trams, planes, cars and buses for no extra cost.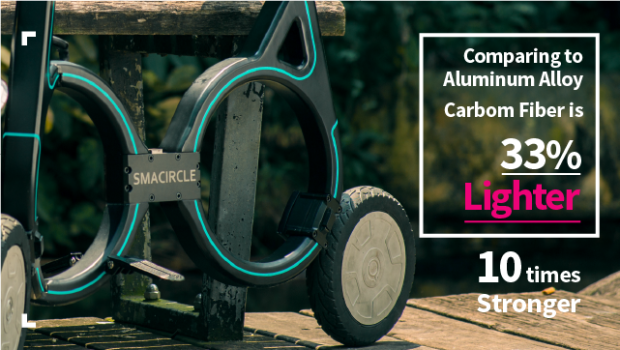 Easily Fold Up in 5 Steps
Fold up with easy 5 steps, you can take Smacircle S1 with you wherever you go.
Small Enough to Fit Into Your Backpack
Ebikes can be heavy, bulky and take up valuable space. Smacircle invented the S1 to combat this. At only 19 inches lengthways and able to fold up in five simple steps it can fit easily into a standard sized backpack. Alternatively, you can carry it easily by holding onto the saddle.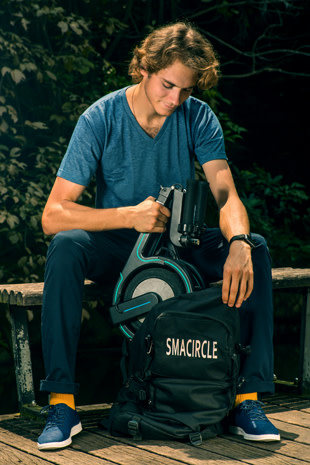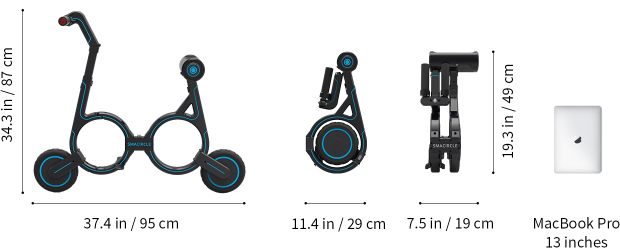 Powered by Advanced Brushless DC Motor
Cruise through the city at 12mph at up to a 15° angle with the Smacircle S1 ebike. Powered by a 240W motor the S1 can easily manage uneven sidewalks and ride in raining days because of its waterproofed, so there's no need to run for the bus, join a busy subway carriage, or pay for parking. Let Smacircle do the hard work for you, there's no peddling needed!
Damping Tires
The Smacircle S1 has custom solid damping tires. With advanced wear resistance, there's no need to worry about punctures, or inflating. Smooth tires makes it easy to ride on uneven roads.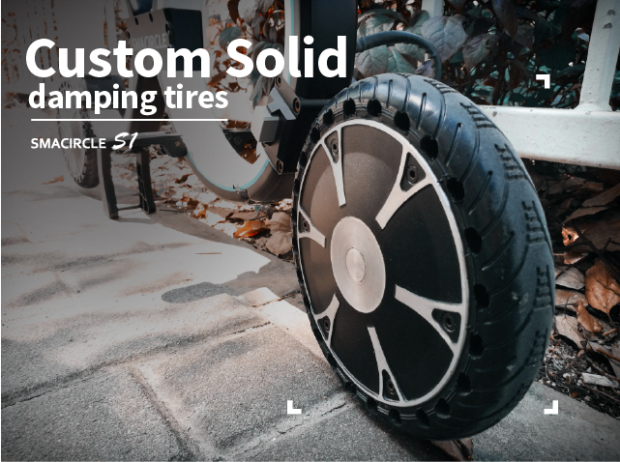 Sensitive Electronic Brakes
Compared to regular brakes which stop the vehicle through friction, Smacircle S1 has embedded electronic brakes which a more sensitive allowing you to stop faster and more safely. Simply press on the brake button on the handlebars and the motor will stop.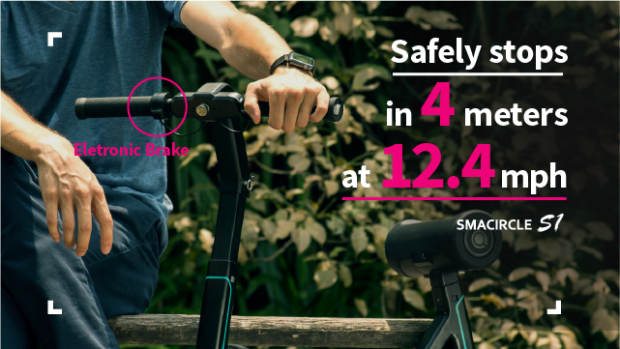 Safety Light For Night Rides
Your safety is our first concern. The front light and sidelights beside the saddle ensures that you are visible at night to traffic and pedestrians.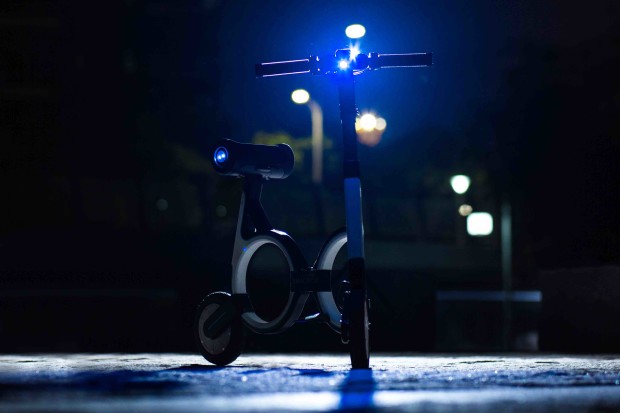 Adjustable Handlebar and Saddle
Easily adjust the ebike's handlebars to fit your needs. Ergonomically designed, the S1 features a soft and comfortable saddle for lengthy rides.
Insert
Mobile Phone Holder
Smacircle comes with a mobile phone holder on the handlebar, which allows you to easily navigate your way to your destination.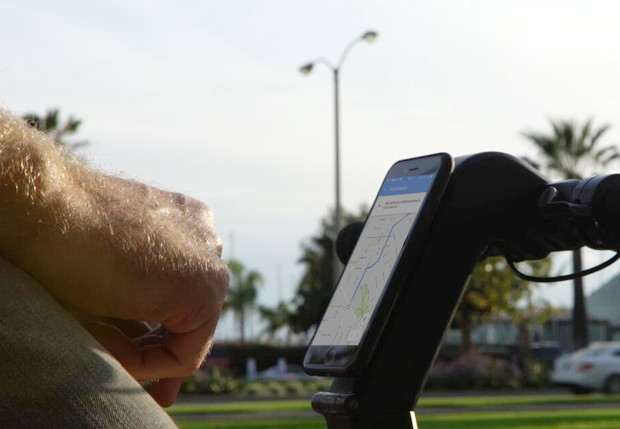 Built-in Samsung Lithium Ion Battery
Ideal for town and inner city travel the S1's high quality Samsung battery will ensure an endurance of 12 miles before recharging. Simply plug into the wall and charge for 2.5 hours and you can get back on the saddle.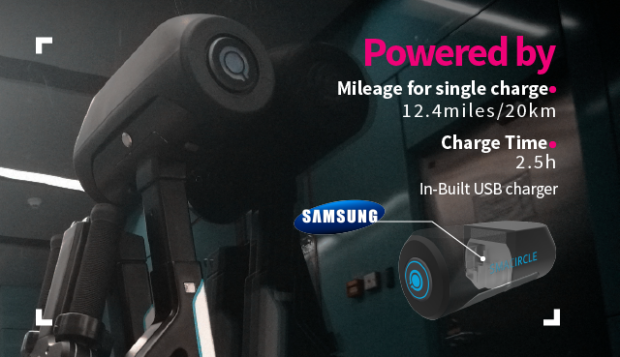 In-Built USB Charger
With an in-built USB charger you can keep your devices charged up as you ride.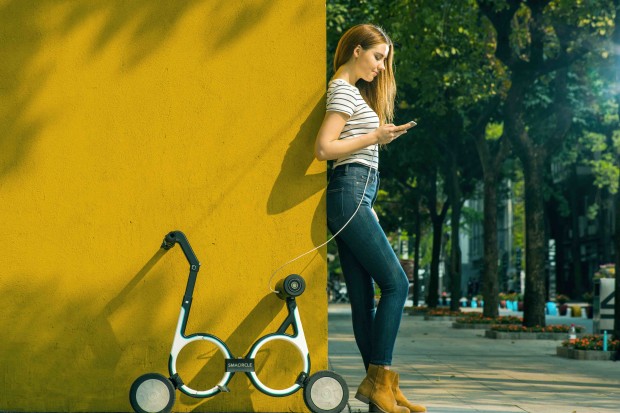 No Licence Needed
No need to worry about getting a road license the Smacircle S1 is under 20mph, which is the threshold speed of street legal.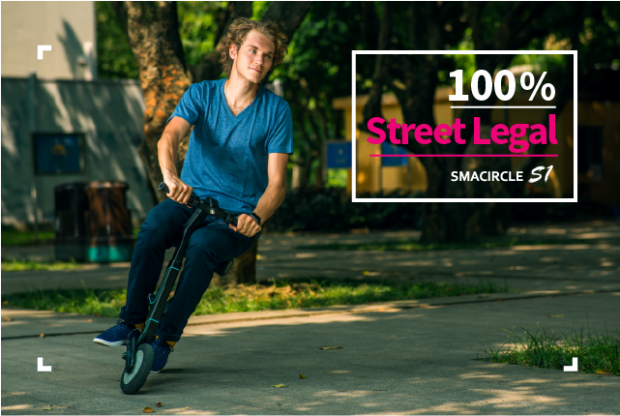 Intuitive App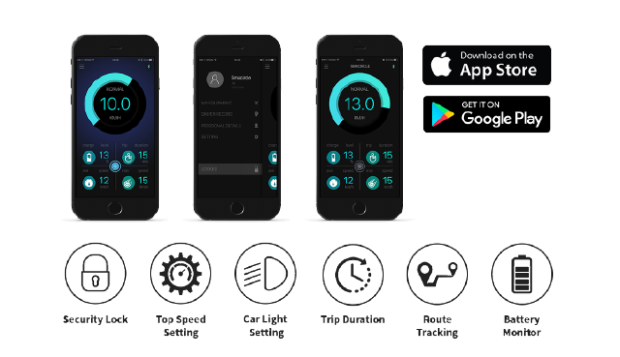 Smacircle S1 comes with a dedicated mobile app, which allows users to lock and unlock the eBike, adjust the light, speed and monitor the battery life. It also monitors your average and max speeds during your trip. Easily attach your phone to the handlebars to stay in the know.
Security Lock
Lock and unlock the eBike with your fingertips.
The S1 ebike automatically connects with the mobile phone when the rider is within the range.
When the security lock is activated, the accelerator becomes deactivated. With the security lock, no one else can unlock/ride the ebike except you.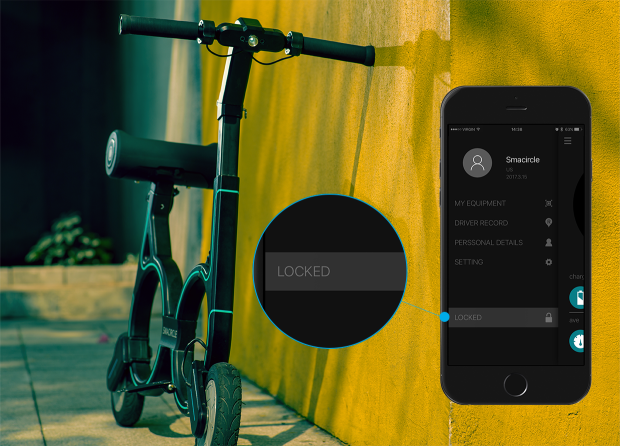 You are unique & your travel experience should be unique too.
We give you possibly the best carbon fiber transportation vehicle in style with the most competitive price to making your commute safe, easy and environment-friendly.
Similar Material Product Comparison Table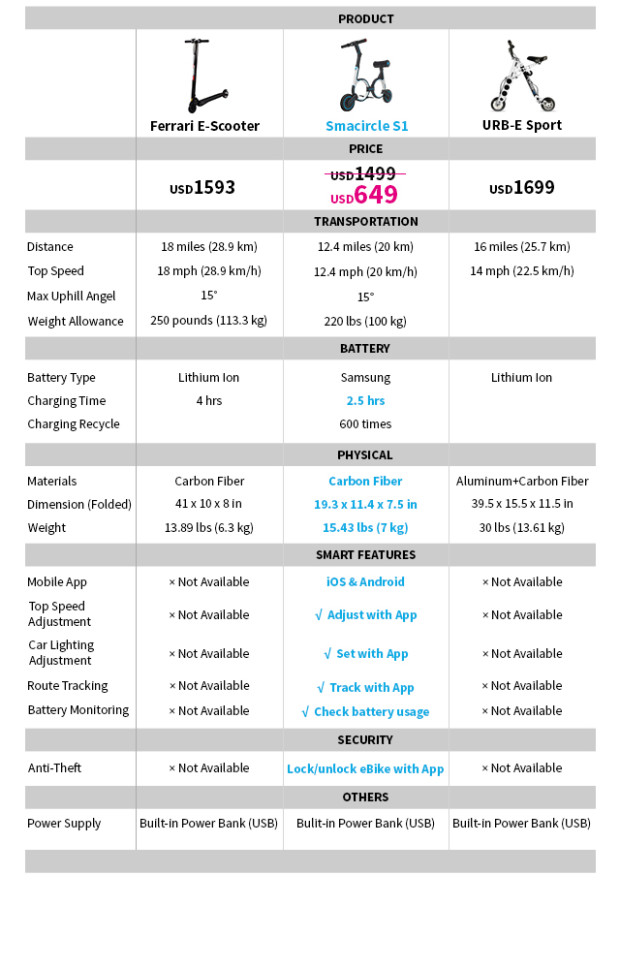 Riding through USA on Smacircle!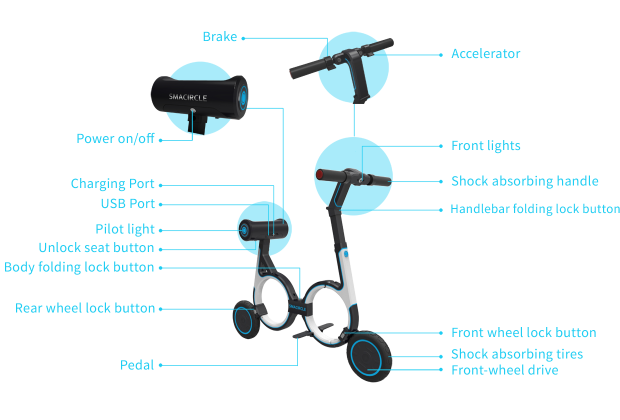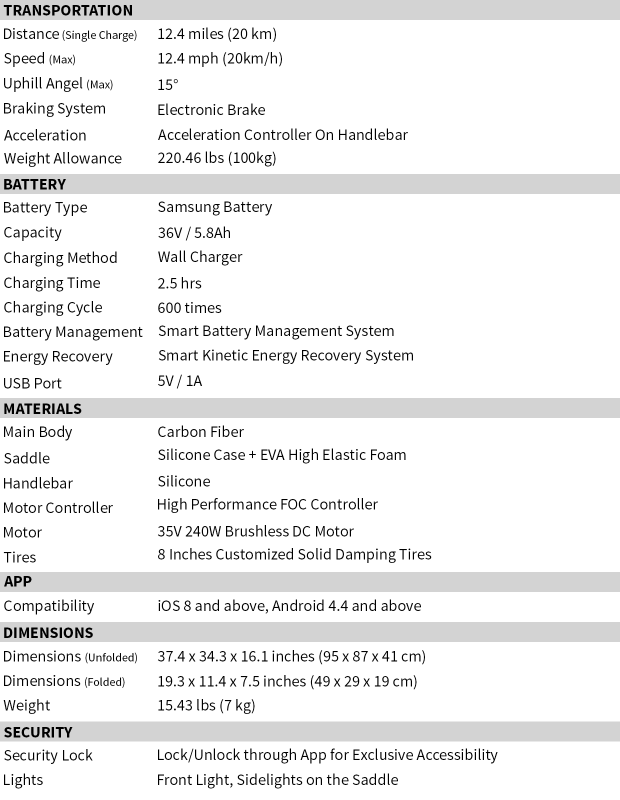 All current and future backers will be able to choose between these colors, and the ones already available (Black/Blue and Black/White) when we confirm your color choice at the end of the campaign.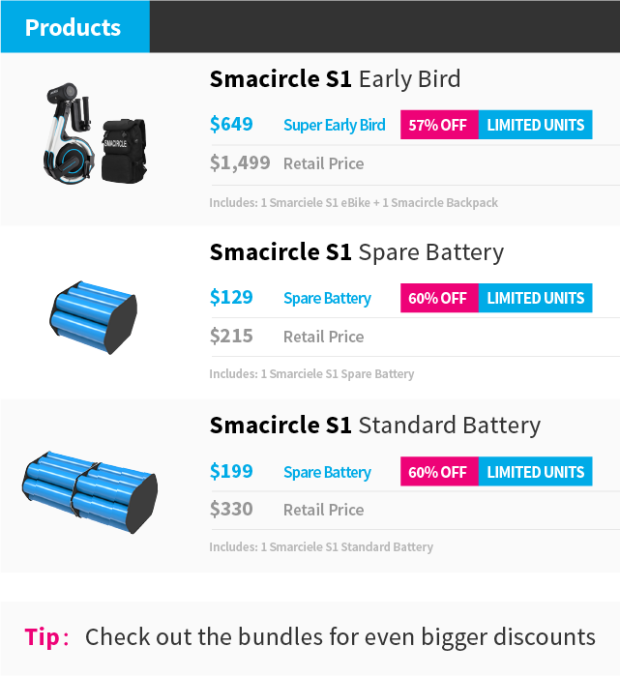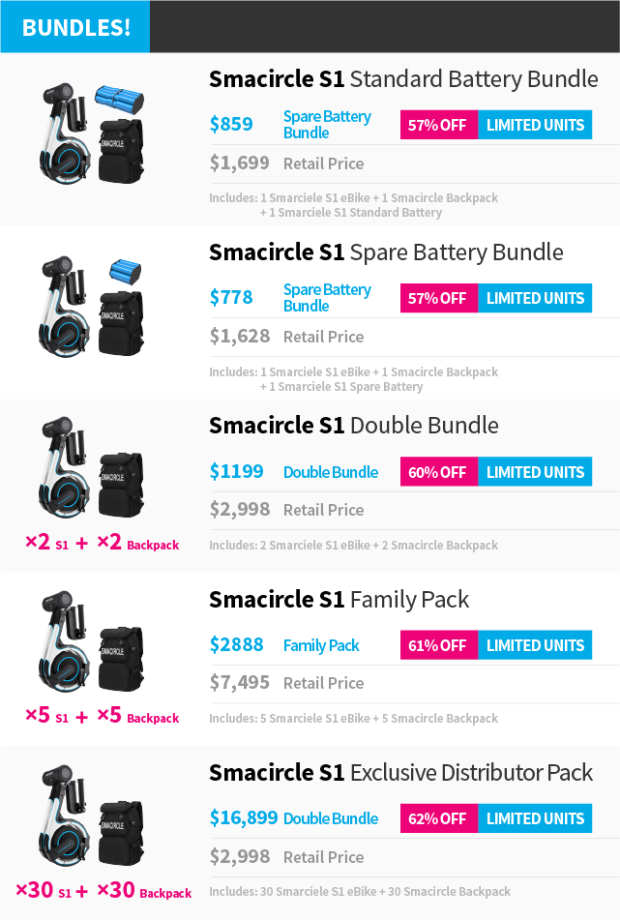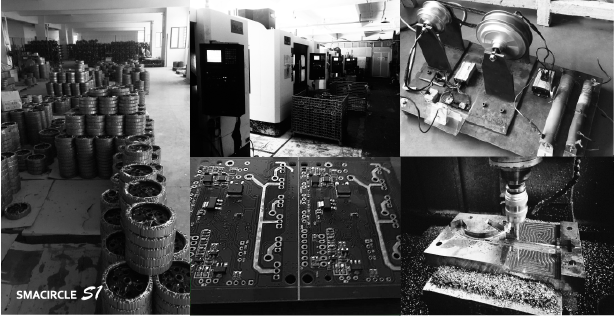 Our structural engineers encountered and solved a series of challenges while designing and constructing the S1. Developing the unique folding method or finding the perfect material combination that would let them reduce the total weight of the bike while making sure it can physically support up to 220lbs/ 100 kg of total rider and cargo/luggage weight was a tough process, but we made it.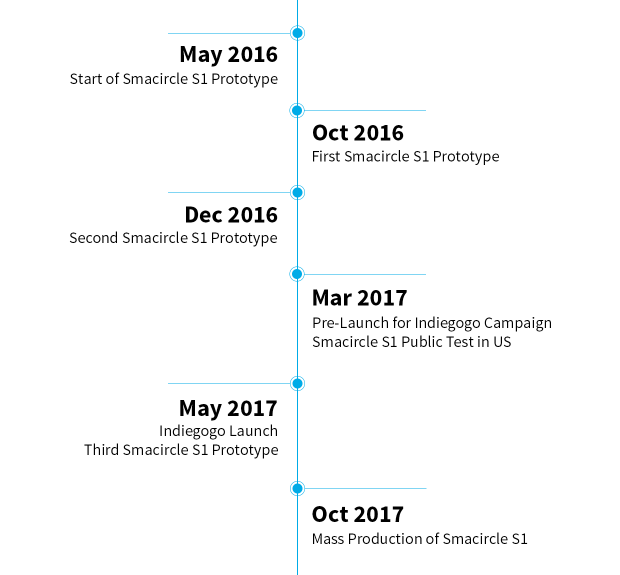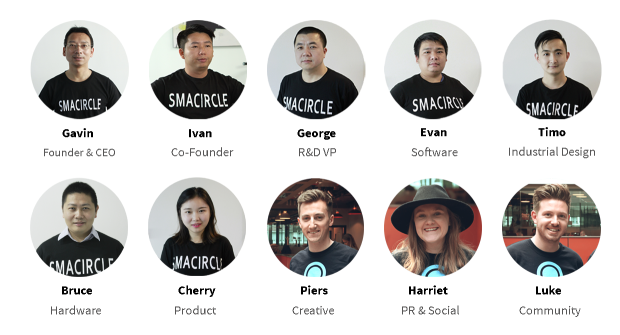 Our team has spent countless hours on research and development, and are committed to bringing you the best ebike. And since we endorse green travel, we also did our best to make sure that our product is completely pollution-free too.
Our product designers spent many days to create the world's lightest and smallest foldable eBike.
We have encountered many difficulties in our journey, but we did not give up, and after nearly 2 years of extensive market and product research we are one step away from manufacturing.