HAL 9000 Bluetooth Speaker Edition
Our entry-level product features a glass primary lens, brushed aluminum faceplate, extruded aluminum trim, and built-in magnets for mounting on a desk or a wall. The internal speaker is compatible with Bluetooth 4.0 devices. HAL 9000 Bluetooth Speaker Edition is an unlimited edition and includes a power supply and handsome desk stand.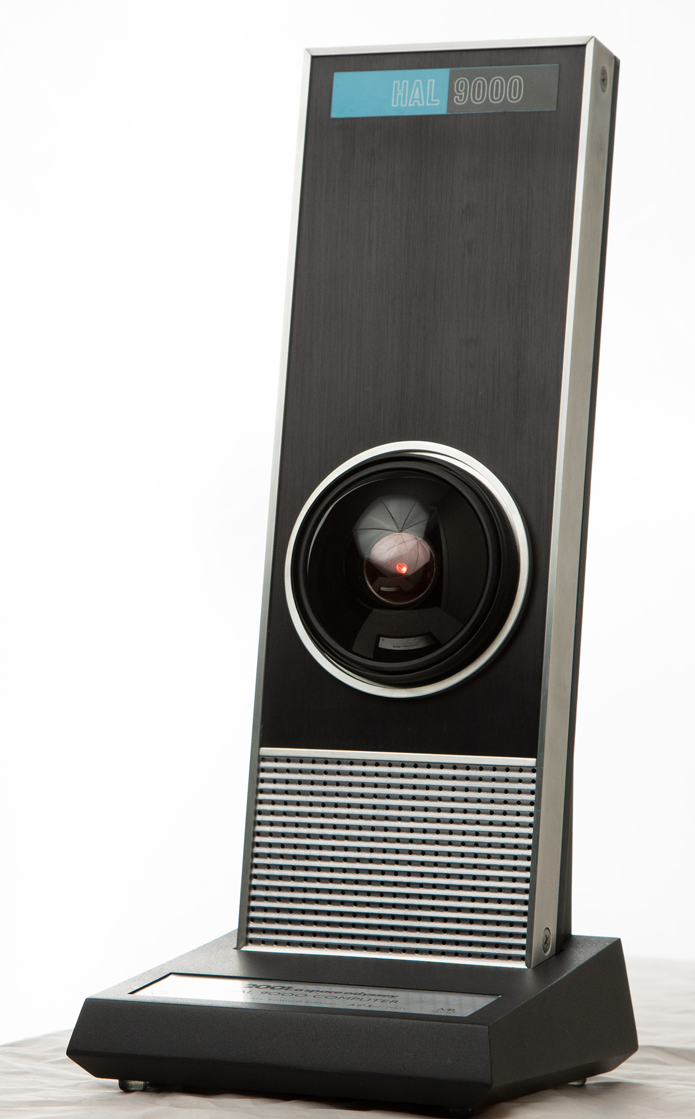 HAL's dimensions are taken right from the original studio blueprints.
An LED in the eye lens provides a red glow that looks just like the prop seen in the film. The eye lens is removable for viewing and separate display if desired.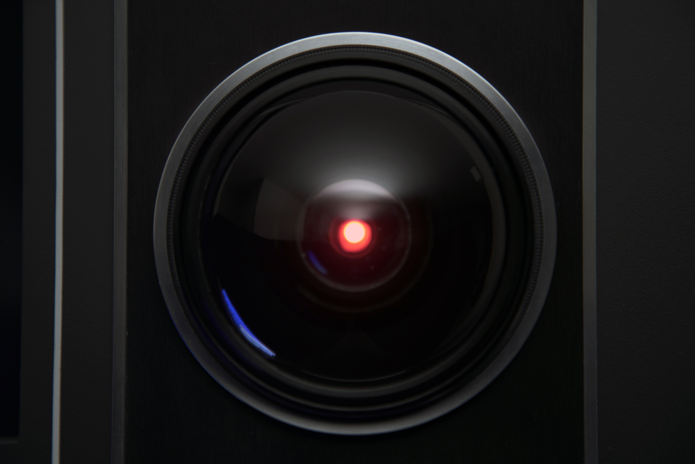 HAL 9000 with Command Console
Limited Edition
Our sophisticated high-end replica recognizes your voice commands and responds with appropriate audio clips and video displays. Backlit with color selectable bias lighting, the Command Console is a work of art on its own. Limited to 2001 units, the HAL 9000 with Command Console includes a removable HAL 9000 Bluetooth Speaker Edition, power supply, handsome desk stand, and a numbered and signed Limited Edition certificate.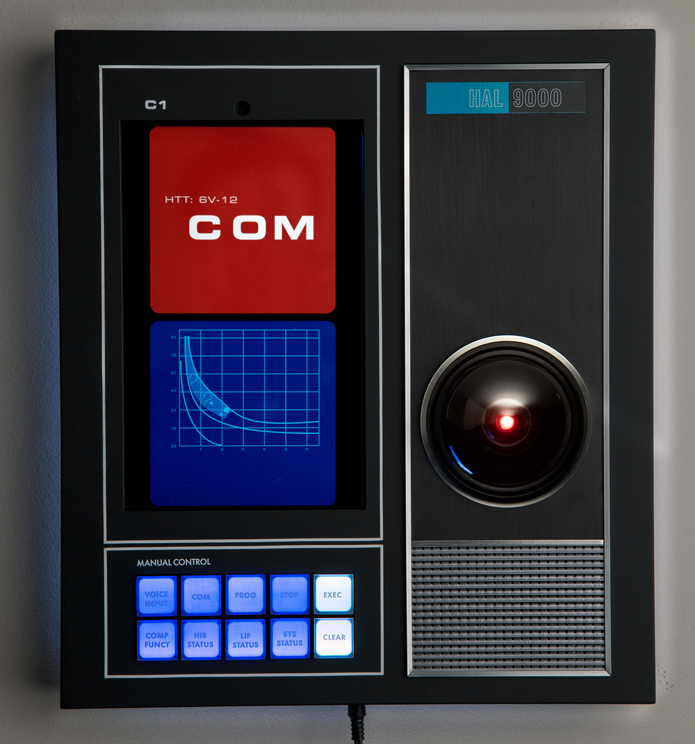 The built-in 10.1-inch HD display screen shows HAL's dynamically changing status video displays.
A bank of ten backlit tactile control buttons lets you select graphics, control various HAL functions, and interact with HAL.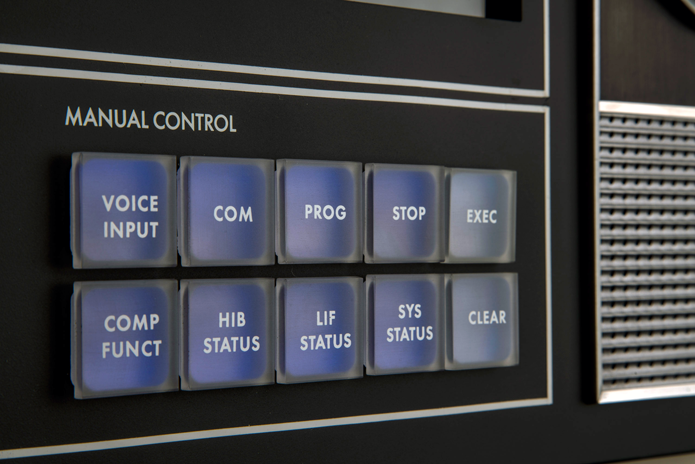 HAL 9000 with Command Console is the first prop replica that can be updated over the internet! Add new functions when they become available through over-the-air software upgrades by connecting HAL to your home wireless network.
Bluetooth Technology
HAL 9000 Bluetooth Speaker edition supports the Bluetooth 4.0 specification for connecting to and playing audio from sources such as smart phones, tablets, laptops, and personal computers. HAL 9000 is compatible with online virtual assistants that support the Bluetooth A2DP or HFP protocols. This includes Amazon Alexa, Google Home/Assistant, Apple Siri, Microsoft Cortana, and others. The HAL 9000 Command Console includes Amazon Alexa pre-installed. Use and availability of online virtual assistant services is subject to the terms of their respective license.
Product Specifications (subject to change)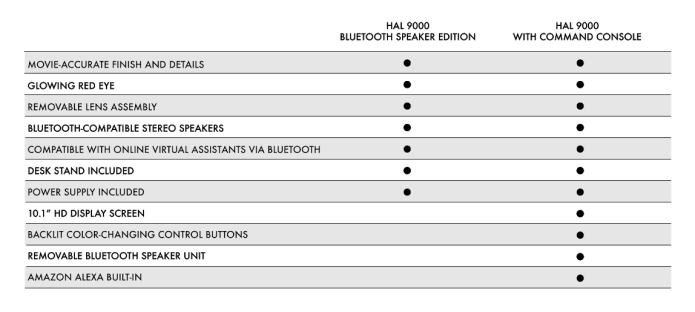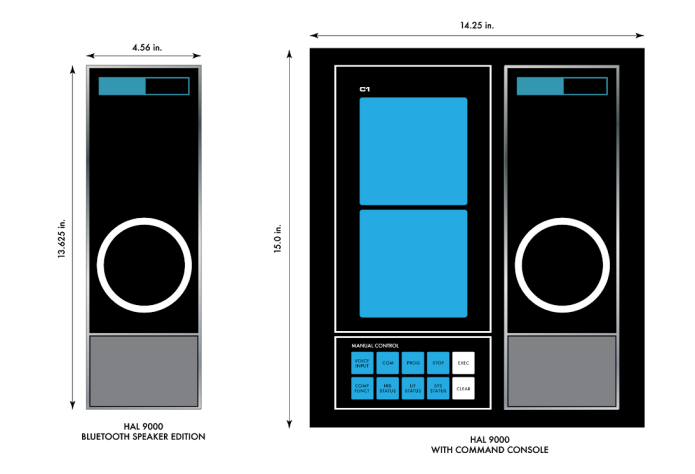 Shop at Master Replicas Group

HAL Mini USB 3.0 Flash Drive - 32 GB Limited Edition
HAL Mini USB 3.0 Flash Drive - 16 GB unlimited edition
2001 Computer Art
Moon Tycho Crater replica Limited Edition
Mars Olympus Mons replica Limited Edition
Various space oriented posters
ABOUT US
Master Replicas Group
(
www.MasterReplicasGroup.com
) was formed by several employees who worked at the original Master Replicas. MR mainly became known for their critically acclaimed line of licensed Star Wars and Star Trek replicas. Being collectors ourselves, we felt that there were many new products that should be made; so we decided to step up and make them ourselves!
We are utilizing a wide-array of new technologies to enhance our new products and processes. For example, we are extensively utilizing social media to connect with our customers in a way that we could not do a decade ago. In addition to premiering our HAL 9000 replica on Indiegogo, we are also working on many other interactive electronic/technology-based devices that will be absolutely amazing!
We waited to launch our Indiegogo campaign until we were sure that we had our ultimate product to date, the
HAL
9000
, ready to go into production. Collectors have waited 50 years to have a HAL of their very own, and we are very excited to finally be able to bring it to you! With its voice recognition and interactive capabilities, this is the HAL that everyone has been waiting for! Its array of capabilities is staggering!
Our Indiegogo campaign is very important to us for a couple of reasons:
Firstly
, we would love for our customers to
also
be our investors. We feel that this helps our customers to be more engaged and interested in our products on a personal level. While we already secured substantial funding back in 2017, MRG wants to always remain a small, low-overhead company. We believe that crowd-funding campaigns are an excellent way to both "spread the word" about new products
and
obtain additional funding for production, without tapping into existing reserves. In this way, we can keep product costs down and
regularly develop and manufacture
new
products; which benefits both our company
and
our customers.
Secondly
, we have many more incredibly cool products on the drawing board that we would love to make, and your investment in our company will help us achieve this goal sooner. Once the HAL project is a proven success, we plan to work on developing and licensing new lines of incredibly innovative and interactive
Star Wars
and
Star Trek
products! But first, we need your support!
We finalized the license for our
2001: A Space Odyssey
product line with Warner Bros. in late 2017. However, the
HAL 9000
project has actually been in development since early-2017, and since then, we have been constantly working on adding additional features and capabilities. We already have the (seems-like-millionth) version of the CAD construction files done, and plan to start production in September of this year. If all goes well, the first HAL 9000 units will be available by the end-of-2018. The command consoles will be available in Q1, 2019. Since we are already privately-funded, and we already have thousands of reservations on our website, we plan to begin production in September, regardless of the outcome of this campaign. However, raising $80,000 (or more) here, will enable us to not have to further tap into our current financial resources and will thus, enable us to continue to develop and manufacture the other amazing projects that we have planned for 2018-2020. For example, we have a license with the Smithsonian Institute for paleo-and aerospace-related products. Raising funds for the HAL products
now
, will enable us to create more of these, and other Sci-Fi products sooner.
MRG plans to develop a large spread of prop and spacecraft replicas using our proprietary interactive technology. Using a combination of Wi-Fi, Bluetooth, voice-recognition, and smart-phone apps, we will be changing the way collectors interact with their replicas... FOREVER!
This is the
first time
that anyone has used these combinations of technologies to bring licensed movie and television replicas to life (literally). Just imagine walking into your man-cave (or she-shed) and having your collectibles automatically (or by voice-command) power-up and start operating and interacting with each other!
Several key-people from the original Master Replicas company are now working for the new corporation, Master Replicas Group. And while we have only been in business for a year, and we are technically a "start-up", we are
far
from inexperienced. Our founder and CEO Steve Dymszo, was the co-founder and VP of Product Design for the original MR for six years and now has over 24 years in developing and manufacturing licensed replicas. Along with other MR alumni and several new finance /management/manufacturing personnel, we have many combined-decades of experience in designing and developing replicas and collectibles on a large-scale. Over the last year, we have been working with our selected factories in China (all of whom worked with the original MR back in 2000-2008) and they are world-renown for their attention to detail, extensive internal quality control, and ability to deliver on-time and on-budget. There are only a handful of factories that are approved by Disney, Warner Bros,
and
Lucasfilm. Our factories have those credentials.
We are collectors ourselves, so this isn't a big corporation that decided to start making collectibles yesterday. Our staff regularly debates (politely and respectfully...
usually
) over minutiae details in our products, and constantly works to make each one as cool as possible for their price-points. We want every one of our products to have that "Wow factor".
There have been many challenges to bringing a fully-interactive HAL 9000 replica to market. Warner Bros. only-recently started licensing the
2001: A Space Odyssey
property. It took us
four years
to convince them to do so and help prod this process along... and then become one of only five licensees to be ultimately selected for this property.
After all of these years of work, we are fully-licensed, our HAL design is finally finished, we have our product approvals from WB, and we are about to begin production. We absolutely did not want to start a crowd-funding campaign until all of these goals were successfully achieved. They now are.
We would greatly appreciate it if you could help us spread the word about our HAL 9000 Product Line (including our mini HAL flash drives, and the downloadable 2001 artwork available on our website!) Please see our links to our website, Facebook, Twitter and YouTube below and share with your family and friends! Once this project becomes a success, we would love to use our interactive technology in Star Wars and Star Trek replicas in the future... you can help us to do that!