Syncs with the Sun
OrchidBox automatically syncs with local sunrise and sunset times.

Wi-Fi + Cloud Connected Growing
OrchidBox is connected to our cloud and can be controlled from your own apps.

Ultra-High Efficiency LED Lights
The LEDs used in OrchidBox won the Prism Award for Photonics Innovation for their efficiency. Combined with precision lenses, OrchidBox simulates natural sunlight while outputting the least amount of heat.

Water Sensor
OrchidBox features a patent-pending water sensor design that never fails to detect when water levels are low and alert you.

Precision Components
OrchidBox was built to stand the test of time and look great.

Intelligent App
Our simple app lets you control OrchidBox settings from wherever you are. Grow smart!

Museum-Grade Acrylic
Our acrylic is made from an injection-molded Lexan medical-grade polycarbonate. It's scratch-proof and looks great.

Water 2x Per Month
With its patent-pending design, OrchidBox conserves water, meaning you only have to water it twice per month.

Add Green to Any Space
Simplicity. OrchidBox fits anywhere, whether it's your home, office, or school. OrchidBox makes a great conversation piece whether it's on your night stand, kitchen counter, or desk at work.
- Bedrooms - Kitchens - Bathrooms -
- Rooms with no windows - Offices and cubicles
-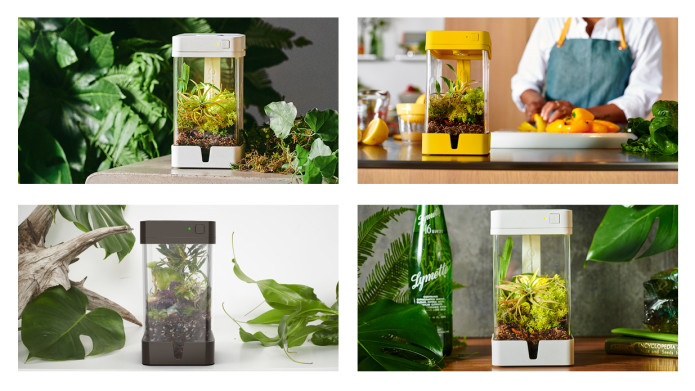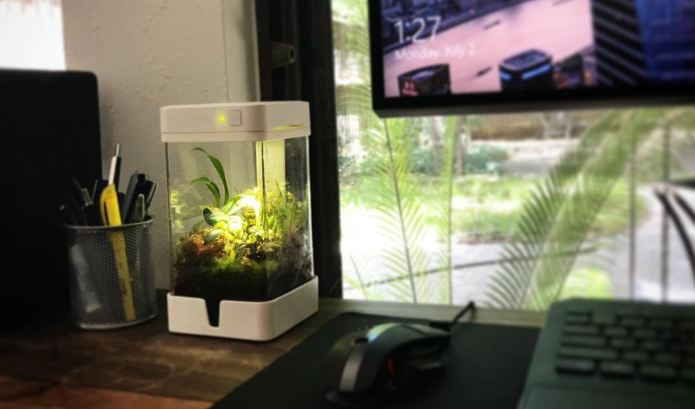 Never Run Dry
Our patent-pending water sensing technology lets you know
when it needs to be refilled. The front LED indicator slowly changes to red to let you know it needs watering. When it's low, just open the box and refill until the light turns green:
When it runs dry, OrchidBox automatically adjusts itself by dimming the light so that the plants will live longer. The optical technology lasts for the lifetime of box and will never fail to detect when plants need water.

Grow Wheatgrass and Sprouts
Wheatgrass is grown from wheat seeds, and takes about two weeks to reach a harvest-able height.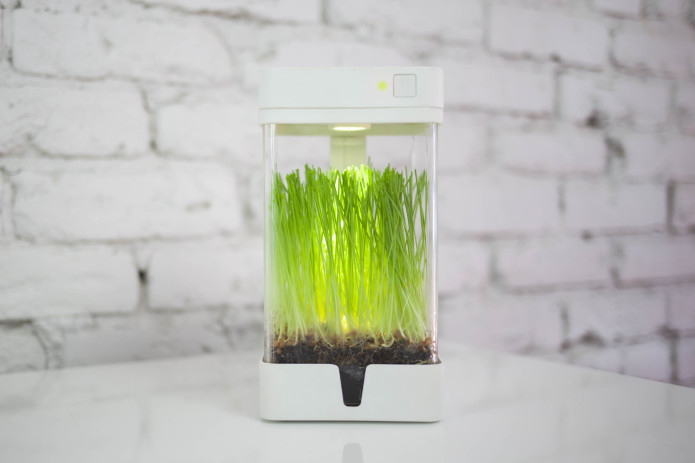 Dual Spectrum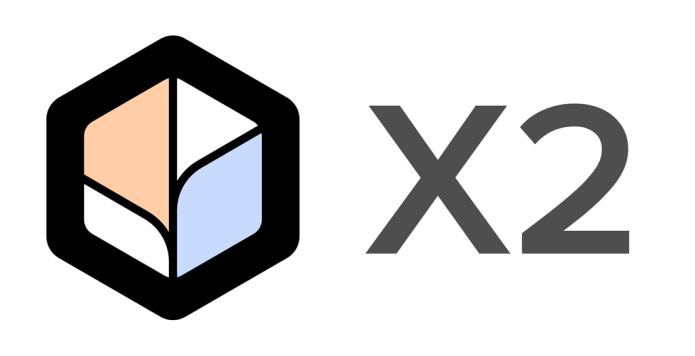 Advanced LED Lighting
Set the mood and simulate nature with our world-class powerful lighting system. OrchidBox automatically adapts lighting based on your location.


Daylight-to-dusk lighting effects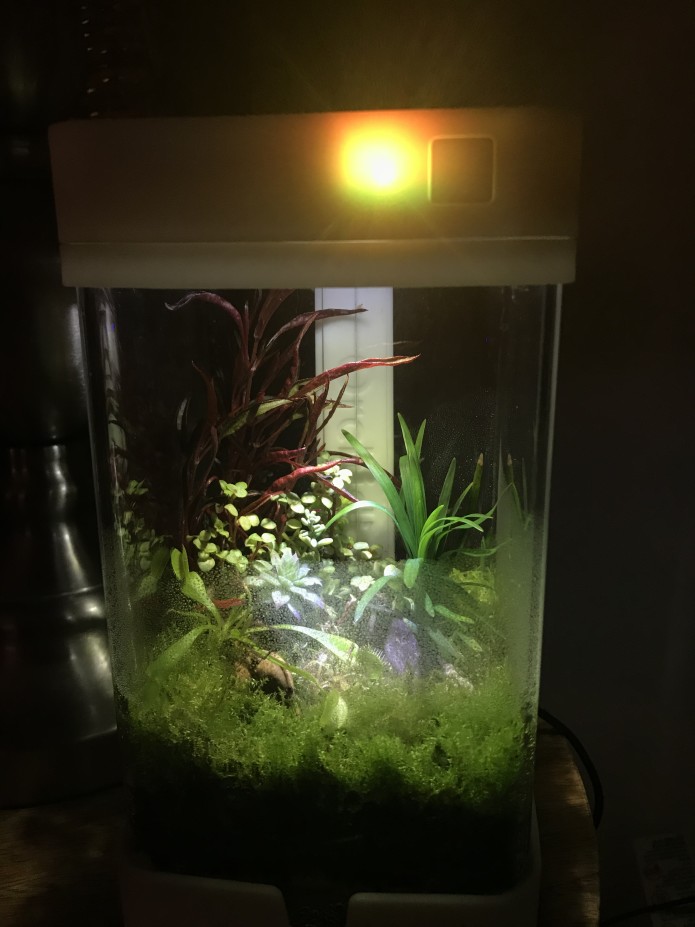 Kids Love to Watch OrchidBox Grow
OrchidBox is great for kids - both in the classroom and at home.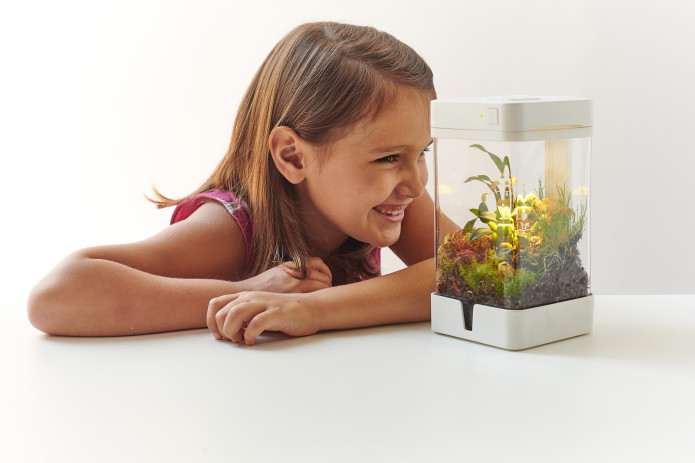 Fully Customizable Environments
Simple yet smart.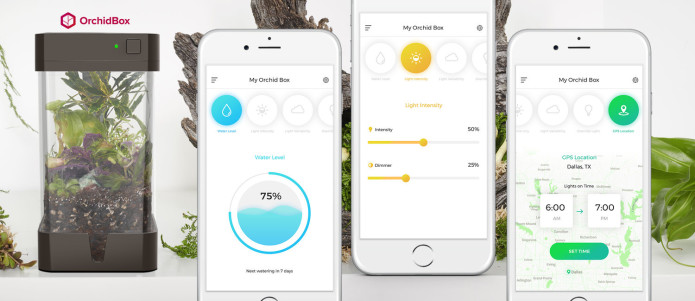 OrchidBox can be controlled via smartphone and automatically turns on and off based on time of day.

A Natural Mini Ecosystem
OrchidBox is suitable for a wide variety of plant life.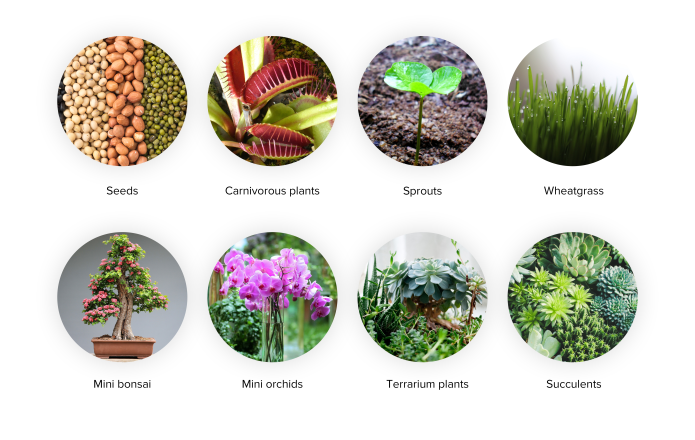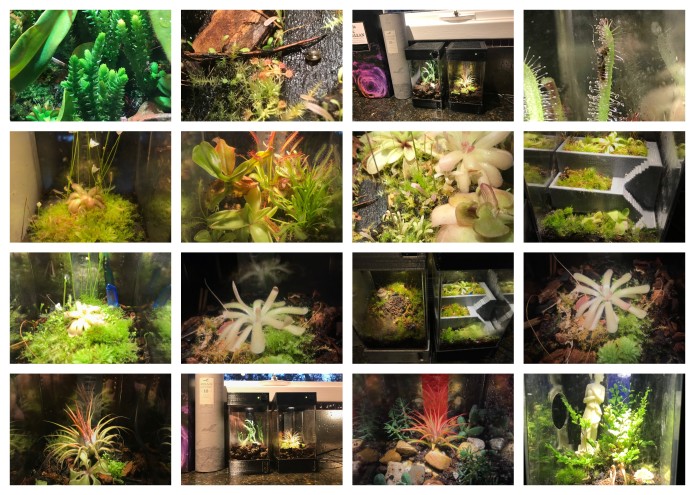 From Prototype to Production
We've been working on OrchidBox since the beginning of this year and we are just about ready for production.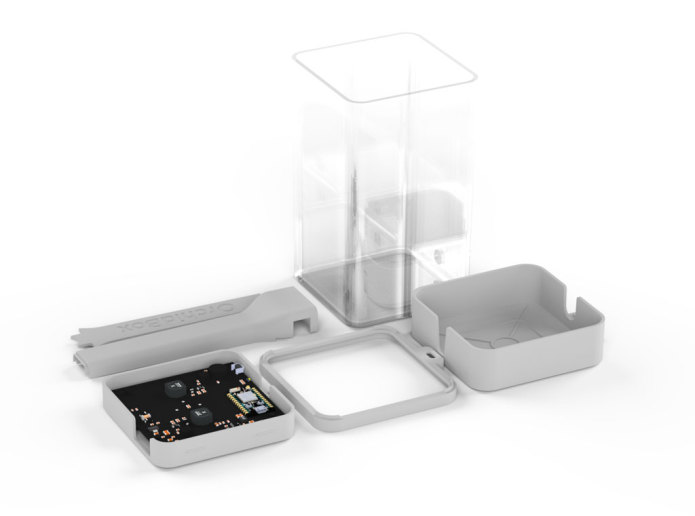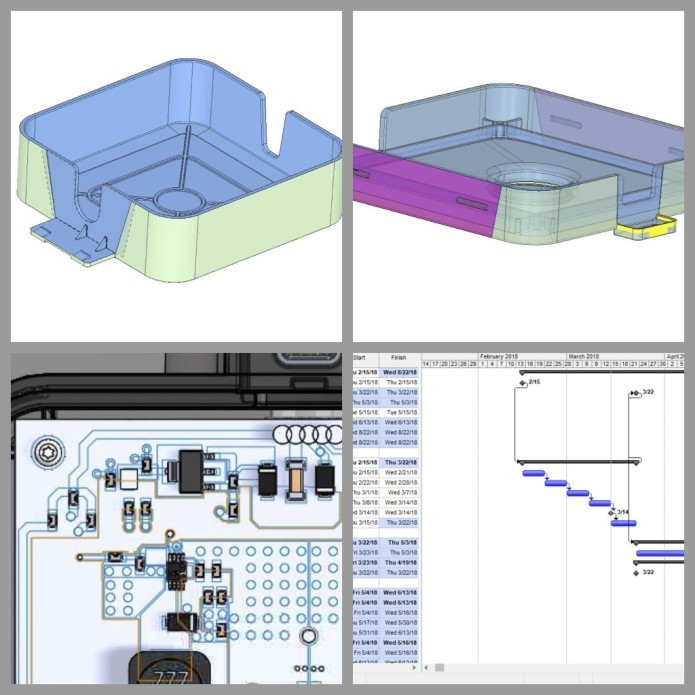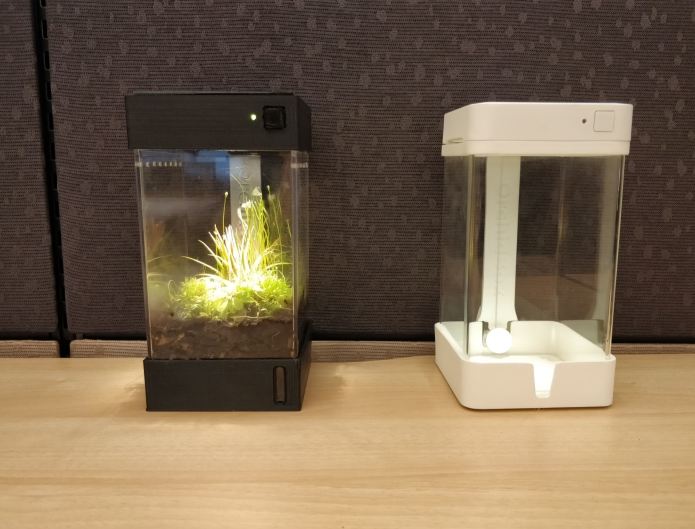 Our first-generation prototype vs our second-gen prototype.

Technical Specifications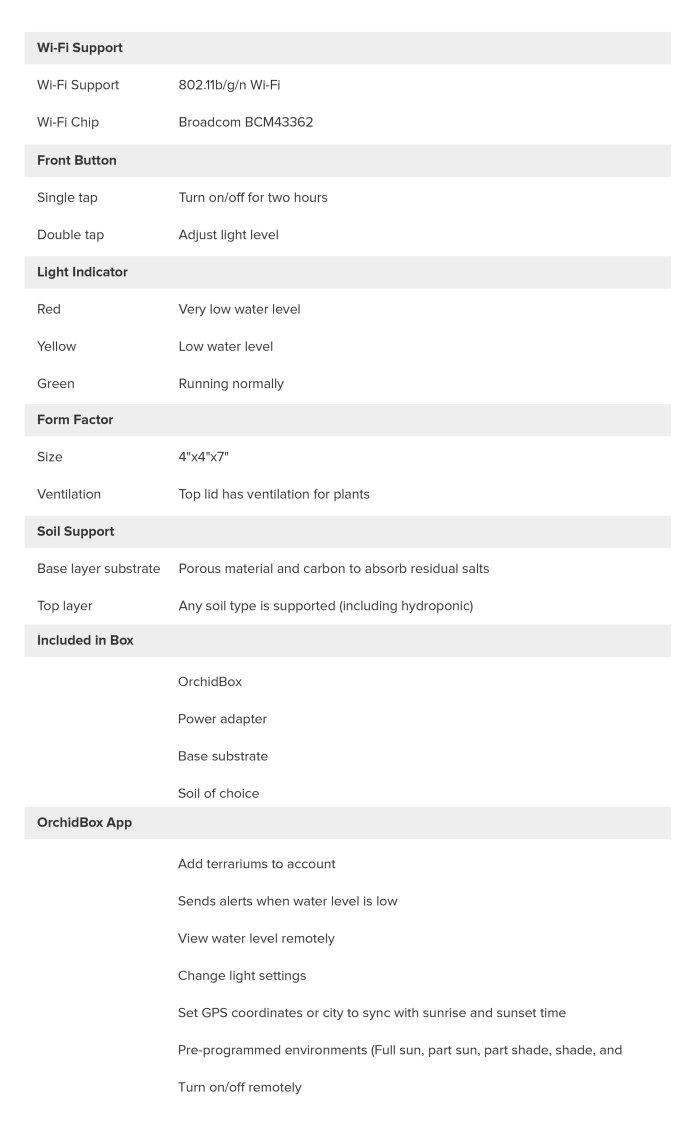 Project Timeline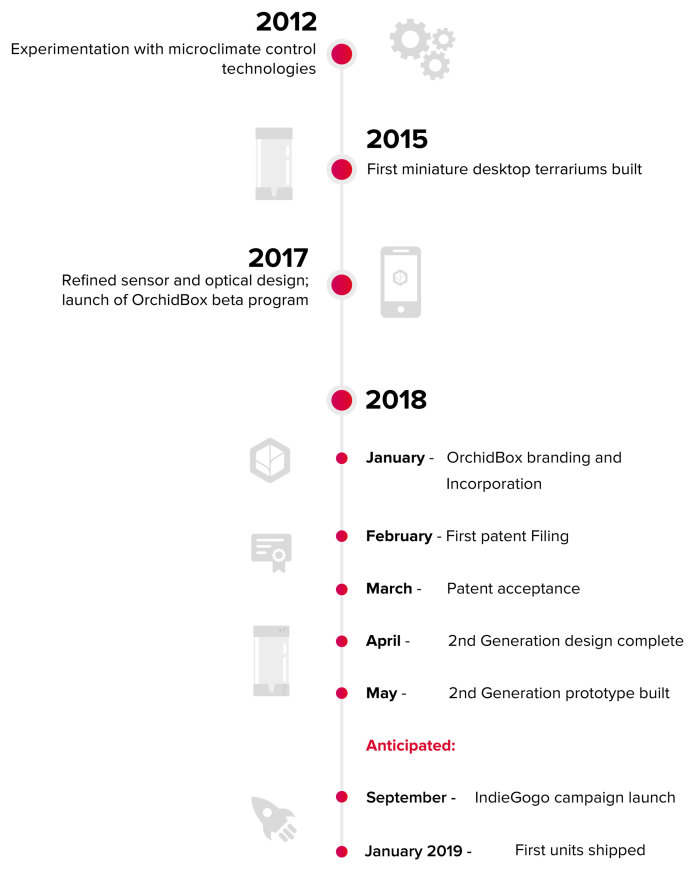 In the News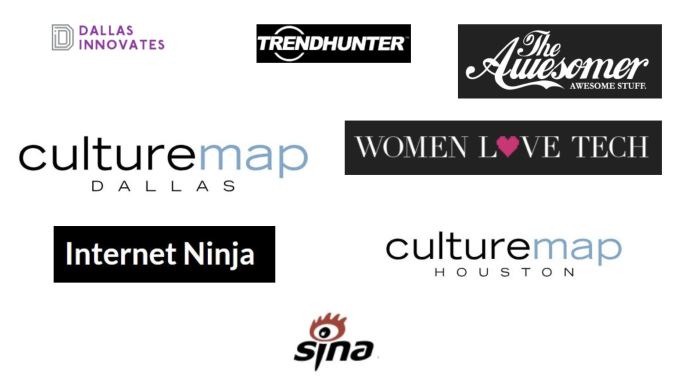 Risks and Challenges
Hardware startups have been called the "double black diamonds" of startups. With any hardware startup, there are immense risks and challenges on all fronts. Almost every step of the way has tremendous pitfalls that can cost a budding organization time, money, and people. We mitigate these risks and challenges by budgeting appropriately and utilizing the immense expertise of industry experts along every step of our journey. We are fortunate to be working with some of the most talented and driven individuals all over the world, and we have a wide distributed and local team that is working hard to overcome all of the obstacles we face, from areas such as software, security, plastics, manufacturing, electronics fabrication, assembly, packaging, logistics, marketing, visual design, PR, and intellectual property law.
One of our biggest risks is the lead time of injection-molded parts, which is the amount of time it takes to receive an order after placing it. We have already secured suppliers for most of our components, but due to the high up-front cost for injection-molded components, we cannot start the process until we receive the initial funds from our campaign. The lead time for injection-molded parts is typically 6-8 weeks or more. In addition, we have a few more components, such as the wire harnesses, that have similar lead times. Our goal is to deliver the units before the dates that we have set.
We believe that having a wide, trusted network to rely on not only makes for a happy workplace but makes it much easier to deliver a high-quality product. While we anticipate many life-changing challenges, we believe we will have the fortitude and expertise to overcome all of them.

About OrchidBox
Our Story
OrchidBox was started by engineering and plant enthusiasts to leverage technology and design to facilitate plant life. We noticed that while devices on the market seemed cool on the surface, they were often large and required a lot of maintenance. They also failed often and were costly to maintain. Many of them simply weren't suitable for what they claimed. In 2015 we started exploring the concept of a smarter and simpler device. Between 2015 and 2018 we perfected the design, adding only the features necessary to create a low-maintenance terrarium that anyone can use. Our first patent was issued in April of 2018, and have filed another. The OrchidBox dream is simple: produce devices that help people get started with plants, so that living spaces around us can become more green.
Mission
Our mission is to increase conservation and conservation awareness by developing micro-climate-controlled devices for plants that are simple and stylistic.
Through our work, we increase awareness for threatened plant species, and increase the total amount of livable space available to plants.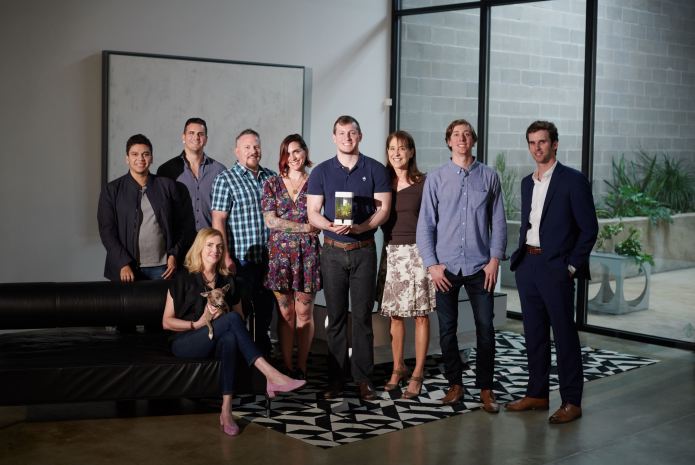 Thank You for Your Support!
Rest assured your funds will be used wisely to ensure delivery of the units you purchase and also to further our mission. We've tested and refined the design for three years now, and it's finally production-ready. We love this product and we can't wait to see the smile on your face when you get your very own.
-The OrchidBox Team